HIV/AIDS Prevention Program
Prevention of HIV/AIDS is one of the national priorities in respect to global context. In order to combat the deadly virus, BEDO has been working on awareness raising program in Naogaon and Dhaka city since 1998.
The field workers of BEDO in Naogaon are continuously providing knowledge on prevention of HIV/AIDS to the samity members through weekly meetings. In Dhaka city BEDO is implementing the program among the rickshaw pullers. BEDO staffs regularly visit rickshaw garages and conduct awareness raising sessions on STI/HIV/AIDS. Under Rehabilitation of Non-Motorized Transport Pullers and Poor Owners Project with the financial assistant of Palli Karma-Sahayak Foundation (PKSF) on behalf of World Bank the beneficiaries are imparted training on social issues that includes prevention of STI & HIV/AIDS.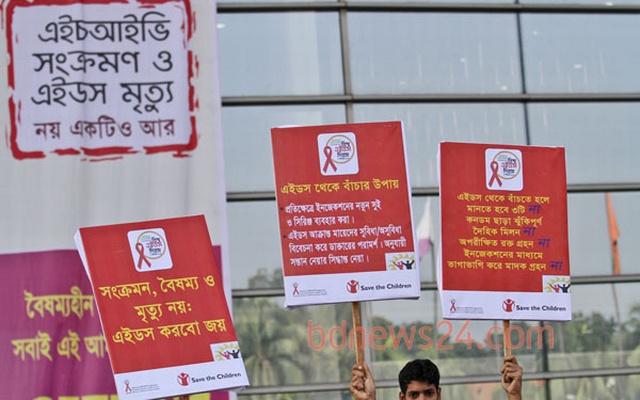 The Government of Bangladesh received grants from the Global Fund to fight AIDS, Tuberculosis and Malaria (GFATM) for the prevention, control and care of HIV/AIDS among High Risk groups, Young People and People Living with HIV. Ministry of Health and Family Planning and Save the Children-USA signed agreement to provide management services for both Round-2 and Round-6 for effective implementation of the projects through sub-recipients nationwide.
Under the project of "HIV Prevention and Control among High-Risk population and Vulnerable Young People in Bangladesh" BEDO arranged training sessions on prevention of HIV/AIDS for 10 samities at Naogaon. Total 244 samity members (male 41, female 203) attended the training sessions.