Md. Abdul Bari, the founder of BEDO, was born on 1st January 1948 at village Boalia under district Naogaon of Bangladesh. He was a brilliant student from his childhood. After completing higher secondary education he got admitted into Juldia Marine Academy, Chittagong to study marine engineering where he was awarded scholarship for his brilliant result in secondary and higher secondary certificate examinations. Abdul Bari obtained Bachelor of Marine Engineering degree in 1970 and joined Pakistan Shipping Corporation in the same year. He passed Certificate of Competency examination as Class-1 Marine Engineer from United Kingdom in 1978.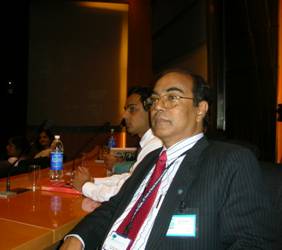 Following the War of Liberation in 1971, he deserted from a Pakistani vessel in Hong Kong and declared his solidarity with the liberation war. After independence he returned back to Bangladesh where he eventually became the Chief Engineer of Bangladesh Shipping Corporation. Besides Bangladesh Shipping Corporation he served Neptune Orient Lines and Kapal Ship management, Singapore as Chief Engineer. While on various shipping assignments, Engr. Bari started tutoring programs for ship engineers to help them prepare for qualifying exams for higher education. To help native engineers and students, he developed a Bangla language textbook titled Internal Combustion Engines and Ancillary Equipment, which was published by Bangla Academy, a government organization to develop and research Bangla language.
Engr. Bari touched most of the seaports of the world while working in the ships. He acquired many adventurous and thrilling experiences in his long 15 years' sailor's life. Once he decided to spend his rest of life abroad. He got permanent resident ship of Singapore in 1991, but did not stay there, rather returned back due to deep affection for his country.
Abdul Bari spent his childhood in the rural area. Sorrow and sufferings of the poor people caused terrific pain in his mind. He thought when he would grow older and got the opportunity to do something for the welfare of the he would do so. He never forgot this feeling of his childhood. After returning home from Singapore he began to think how to serve the distressed humanity. He realized that he could not make substantial contribution for the poor and underprivileged people alone. Recognizing the fact he along with some social entrepreneurs founded BEDO in 1993 and thus he began his journey as a social practitioner in the field of development.
Abdul Bari was awarded prestigious Ashoka Fellowship from USA for his outstanding contribution for the welfare of rickshaw pullers of Dhaka city in 2006.
Abdul Bari is a man of versatile qualities. He is a well-known lyricist and playwright in the country. His songs and plays are telecast regularly on different TV channels of the country. Once he used to write columns in a popular weekly JaiJaiDin.